Privacy policy – use of personal data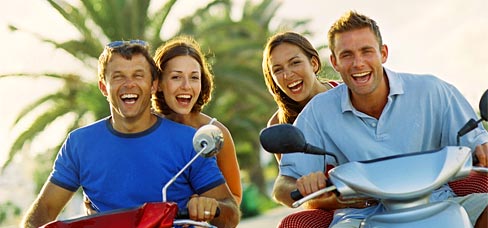 Topics
This website is operated by Scanworld Travelpartner AB which is part of the Etraveli Group. Seat24 Travel AB, 556584-4684, ("Seat24,"we","us" or "our"), which is also part of the Etraveli Group, is responsible for all data processing related to this website.
This privacy policy explains how we collect, store, use and disclose any personal information we collect about you when you use this website, as well as how we protect the privacy and confidentiality of your personal information. Your privacy matters to us so whether you are new to our service or a long-time user, please do take the time to get to know our practices – and if you have any questions contact us.
Generally, the type of personal information we collect is the information that we need to facilitate your travel arrangements and bookings. This includes information such as your first and last name, date of birth, telephone number, postal and email addresses and billing information. Depending on the kind of travel services you use, we may also collect your frequent flyer number, information about your dietary requirements and health issues (if any), and other details which are relevant to your travel arrangements or which are required by another travel service provider (such as airlines, hotels and car hire companies).
This is not an exhaustive list. For example, we may sometimes need to collect additional information as part of our customer authentication process, such as when you want to speak to our customer service team.
If you make a reservation for someone else through this website, we will request personal information about that individual. In those circumstances we rely on you to advise those individuals about this privacy policy.
We may collect your personal information in a number of ways. Generally, we will collect personal information directly from you when you register for, or use, our services, place an order, use this website or contact us (including when you call us or when you write to us).
In some circumstances, it may be necessary for us to collect your personal information from a third party. This includes when someone makes a booking on your behalf or when we collect your personal information from our related entities, business or commercial partners.
We automatically collect some information about your device when you use this website. For example, we collect information about your web browser and online activity, such as trips viewed and bookings made. We collect this information using Cookies and other technologies. Please read our section below on Cookies for more information.
You have no obligation to give us any personal information. However, if you choose not to provide certain information, we may not be able to provide you with the service you require, or the level of service on which we pride ourselves.
We use the personal information we collect about you to process your order, for example when you place a booking or request an add-on service. We may also use your information to comply with legal requirements and law-enforcement requests and to identify fraud or errors. We may also use your information to handle your participation in airlines bonus programs or to communicate with you (for example responding to questions and complaints).
Your information may be used for marketing- and customer related analysis, service development and improvement, risk management purposes and statistical purposes. We may use your information to email you and/or send you a text message about travel-related opportunities, special offers and other products or services that may be of interest to you, if you have not objected to receiving such information in writing.
Your billing information is only used for processing your order of our products and services. We only share your billing information with third parties for order processing purposes such as processing the payment of your booking.
We may disclose your personal information to third parties who provide services to us, including organizations and contractors that assist us with the purposes for which we use your personal information. These include our related entities in the Etraveli Group. We may also pass on your information to our partners in the travel sector such as airlines, hotels, local partner companies, marketing and communication partners, as well as our suppliers and contractors. Depending on your travel destination, your information may be processed outside the EU and European Economic Area (EEA).
We may also disclose your personal information to a person who makes a booking on your behalf, if you are travelling on a booking made on your behalf by that other person (such as, a family member, friend or work colleague).
We reserve the right to share your information in connection with a corporate transaction, such as a divestiture, merger, consolidation, or asset sale, or in the unlikely event of bankruptcy. We also may share your information in response to subpoenas, court orders, or other legal process or as otherwise required by law (including to law enforcement and national security agencies, and other government and regulatory authorities).
You have the right to request a copy of the information that we hold about you. If you would like a copy of some or all of your personal information, please send your signed request to the address set out below. You may also send a digital scan of your signed request to privacy@seat24.com.
It is your responsibility to ensure that all personal information you provide us is correct and up-to-date. We will correct and update your information on your request or if we become aware of inaccurate information. If you would like to request a correction or update of your information, please send your request to the address set out below. You may also send a digital scan of your request to privacy@seat24.com.
Some of the features on this website require your browser to accept cookies. You can set your browser not to accept cookies, however, in a few cases some of our website features may not function properly and some content may not be displayed correctly as a result. We use cookies for providing you with a personalized experience, improving the usability of this website and collecting usage statistics. Cookies and other technologies help us to understand how you use our services and enable us to improve our services, providing you with the best possible experience. We use session cookies to improve the security of this website. We also make us of advertising cookies and other technology that serves you with personalized marketing content based on your online behavior. For further information about cookies visit www.youronlinechoices.com.
For a full list of all cookies used on this website click here. You can set your browser not to accept cookies. Read more about how to set your browser not to accept cookies on www.youronlinechoices.com.
We work hard to protect this website and our customers from unauthorized access to or unauthorized alteration, disclosure or destruction of information we hold. We have implemented safeguards that protect your information against illegitimate use. We also follow best practices for information security including continuous reviews of our information collection, storage and processing practices, including physical security measures, to guard against unauthorized access to systems. When processing personal information, our employees must abide by strict data processing guidelines based on applicable law and may be disciplined or terminated if they fail to meet these obligations. We also use automated systems to detect unauthorized use of your personal information.
In some cases, we may share your information with companies outside the EU/EEA for the purposes described above. For example, we may disclose your personal information to our service providers who are based in India. Our partner companies may use your information for processing your order, fraud prevention purposes and risk management.
You can, at any time, stop us from contacting you for marketing purposes or giving your information to other companies for marketing purposes. If you no longer wish to be contacted for marketing purposes, please contact us at the following address.
This website contains links to other websites and serves content from third-party providers. This privacy policy only applies this website and our services. When you follow links to other websites or use third-party services and products you should read their privacy policies.
If you would like to correct or update your information or if you have any questions about our privacy policy or information we hold about you, please contact us at the following address.
Data Protection Officer
Seat24 Travel AB
P.O Box 1340
751 43 Uppsala
Sweden
E-mail: privacy@seat24.com
This privacy policy is effective as at 2018-02-22.
From time to time, we may need to change this policy. If we do so, we will post the updated version on this website and the updated version will apply to all your personal information held by us at the time.
If you are unsure about whether you are reading our most current privacy policy, please contact us.